S400: Why is the City giving away waterfront land for free parking?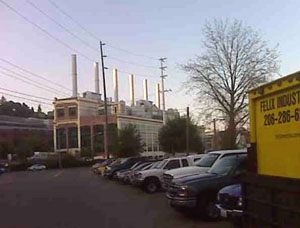 Why is the City of Seattle, which is facing a severe budget shortfall and aims to promote alternatives to car use, giving away some of its most valuable waterfront land as free parking?
Along just a few blocks of Fairview Avenue to the north of the Fairview/Eastlake Avenue intersection, each weekday morning one can count over 200 cars parked for free on City owned property. There are no parking meters and no requirements that cars have a neighborhood zone parking permit. It's simply free parking in a valuable and rapidly urbanizing part of the central city.
Not only is this foolish for a city with a budget problem, it's also remarkable since much of the free parking is on the Lake Union waterfront and aligned in such that the ends of parked cars often protrude significantly into the recently established though still fledgling Cheshiahud Lake Union Loop, making it impassible.
This, it seems, is a fairly stark contradiction of the City's plan for the trail as a, "multi-use loop around Lake Union…that connects people to open space," as well as the sensible goal of encouraging people to commute to work and get around the city via means other than cars.
Ideally, I believe that the City should eliminate this free parking and use the land to turn the Cheshiahud Loop into a true trail and not just pretty street signs and colored lines on a Parks Department map. What could be a stronger way to encourage urban living, walking and biking than replacing parking with a wonderful amenity for city residents and visitors, a true multi-usepath along Lake Union? Those people who have been parking for free have undoubtedly gotten a sweet deal which they'll be loathe to lose, but why can't they pay to park (or carpool, take transit or ride a bike) like the vast majority of people with jobs in the central city? As many urbanites have recognized over the years, successful, prosperous and livable cities prioritize and orient themselves around people, not cars.
If the parking to trails conversion idea is simply too bold and contentious for our leaders, then how about a compromise in which the City creates more of a true multi-use trail by re-aligning the parking spaces so that they run parallel to the street, and charging market rate for its valuable real estate? Simple math indicates that if in this area there are 200 stalls for which the city could be charging $5 per weekday (comparable to lots in the area), that is $5,000 per week or $260,000 per year that the city is giving up to provide free parking. That amount could pay for the improved trail, save the jobs of at least two full time City employees, or pay for a lot of pothole repairs.
>>>
Gabriel Grant is a Vice President at HAL Real Estate Investments