S400: Can't get used to something so right…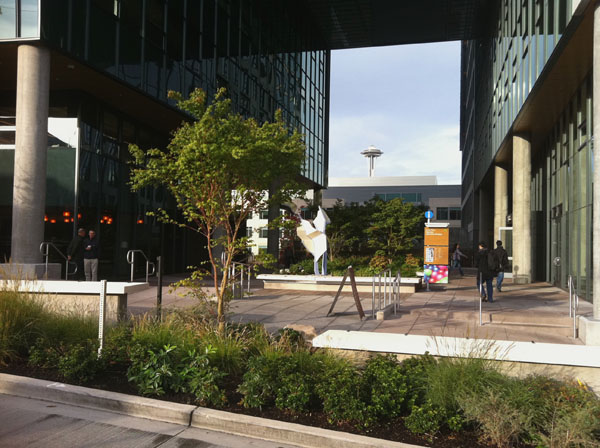 I was talking to a Seattle City Councilmember the other day about the politics of the South Lake Union rezone. Apparently, everyone on the Council has something they don't particularly like about the new developments there, something that they wish was done differently, and this is making them cautious about moving forward.
I have to admit, I was aghast. This is one of the most vibrant neighborhoods in our city, nay, in our country for crying out loud!  Other cities wonder how they could get some of our pixie dust and make a South Lake Union appear in a dilapidated industrial area at the fringe of their downtown. South Lake Union is full of the kind of goodies that city leaders covet like lots of mixed income housing, entrepreneurialism, job growth, economic diversity, and excellent places to eat and shop and walk around.
I was in the neighborhood for a meeting recently and took a couple of pictures of some things that I like on the big black 11-story building that has drawn its share of ire. How cool is that picture window (above) with the space needle in it?  Very cool.  Cooler, in fact, because you have to stand in just the right place to see it.  I don't need a view corridor to the space needle from everywhere,  just in one perfect spot.  And check out those excellent floating light fixtures in that coffee shop on the left.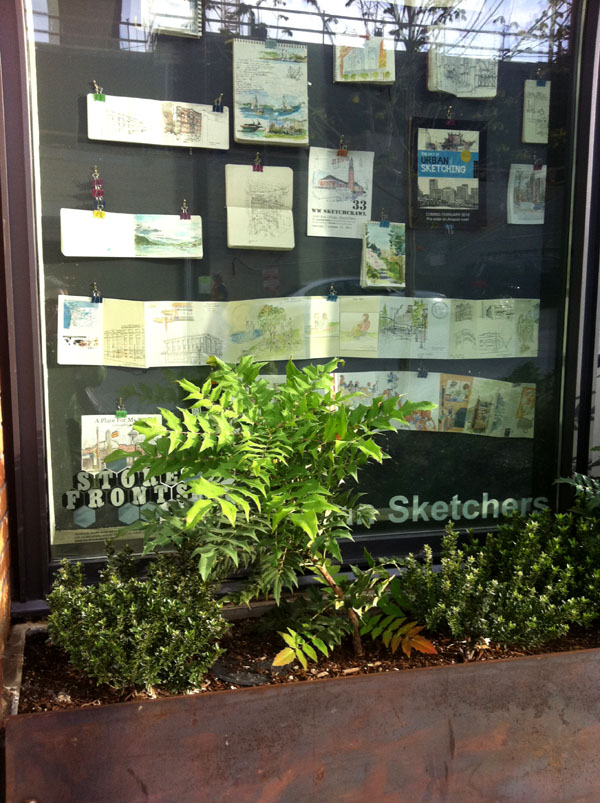 And look at these nifty doodles in a window on a weird grade where you can't really put a retail entrance.  See the Oregon grapes in the foreground? Fun. Fun. I am delighted by this stuff compared to what used to be there.
Can I find some things I don't like in South Lake Union? Sure.
Should they drive policy that effectively turns off the tap until 2013 on a thriving neighborhood that is bursting at the seams? Of course not.
>>>
A-P Hurd is a developer at Touchstone and a Fellow of the Runstad Center for Real Estate Studies at the University of Washington.