\ \ \ TANKSHOTS (2) \ \ \
If you ever happen to be walking along the nearly block-long, puke-tan blank wall of the Sheraton Seattle Hotel on 7th Ave between Union and Pike and find yourself wondering what a civilized urban street facade should look like, I've got exciting news for you:  All you have to do is look in the mirror.  Because apparently some diligent designer types working for the Sheraton thought they'd jazz up their sad, dead street wall by placing a series of  giant mirrors on it: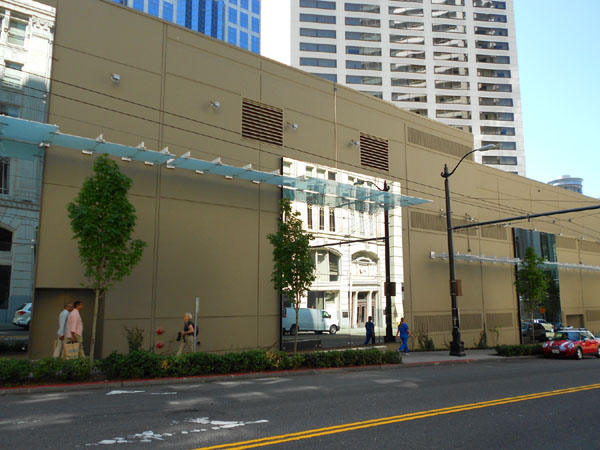 What you can see in the mirror across the street is the 1925 Eagles Auditorium Building.  Good urbanism, no design regulations necessary:
The Sheraton tried to make up for their insult to the pedestrian environment that the City will be putting up with for decades by providing overhead weather protection, special paving on the sidewalk, attractive landscaping, and hmm, I guess they were thinking people might enjoy squatting on those narrow concrete stub walls to admire themselves in the mirror?
But no amount of lipstick can make up for how this side of the block lacks what matters most for a good urban street, and that's activation, transparency, and porosity.  Ah shux, well, maybe we'll get another shot at it in half a century or so.  Hopefully by then we'll have rediscovered the sense of community that once inspired people to create humanistic urban buildings without being regulated to do so.
>>>
All photos by the author — click 'em to enlarge.  This post is part of a series.