Dispatch From The SPC: Density Is Good For Our Health!
Editor's note: This is the first installment of an ongoing series of dispatches from the Seattle Planning Commission.

>>>
The way Seattle is planned and ultimately shaped has an immense impact on the health of the population living, working and playing within its bounds. There are numerous reports and articles that cite residents of Seattle as being healthy overall compared to others across the nation. However, our area experiences vast health inequities. The disparities in rates of chronic disease in low-income and communities of color are the result of preventable, systemic, unjust social and economic policies and practices that create barriers to opportunity.
While many feel these health problems are the result of individual behavior, the issue must be considered in a larger context. Individuals make decisions based, at least in part, on their environments. If residents live in an area where it is uncomfortable to engage in daily physical activity because they feel unsafe due to traffic speeds, noise, a lack of appropriate infrastructure or perceptions of crime, they are less likely to participate in the physical activity needed to live a healthy life.
The update of Seattle's Comprehensive Plan and the work the city is doing in Transit Communities such as Othello, Mt. Baker, Beacon Hill, Capitol Hill, Roosevelt and West Seattle provide a primary vehicle to address barriers to opportunity. By creating healthy, sustainable and livable communities which provide housing opportunities not only for the privileged, but also for residents across the spectrum, we can ensure that everyone has an equal opportunity to choose healthy behavior for themselves and their family.
In order to accomplish this goal, the City of Seattle should increase development capacity within close proximity to high capacity transit, schools and parks, and discourage development in areas which lack the essential components of livability or are in areas that can lead to poor health outcomes, such as freeways or places that don't have access to open space, playfields, community centers, etc. We must plan communities where people can comfortably and easily walk, bike and ride transit to their meet their daily needs, such as their job, school, park and grocery store.  Ensuring these opportunities for current and future residents can help to address some preventable health problems such as asthma, diabetes, heart disease, stroke and certain types of cancer.
Planning was once closely allied to the profession of public health in addressing concerns of population well being, safety and welfare. Over the course of the last century, planning and public health have diverged into separate disciplines lacking institutional ties. Emerging threats to public health arising from community design decisions are revitalizing the ties between the two disciplines. Seattle has played a key role in use health and equity to inform planning and investments. However health indicators reveal that there is more work to do.
>>>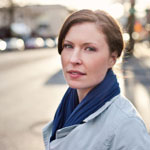 KADIE BELL SATA is a member of the Seattle Planning Commission. She currently works for Public Health – Seattle & King County on a federal chronic disease prevention initiative. She has experience in health policy, social and racial equity as well as environmental sustainability. Community activities includes youth mentorship, neighborhood advocacy and serving as an affiliate instructor at University of Washington's School of Public Health.